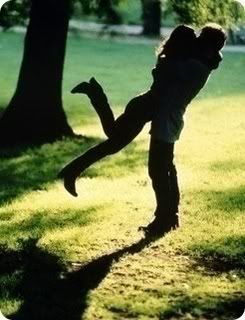 Happy Anniversary Sweet Cheeks! Well, I can hardly believe it, but Dustin and I have now been married a year! I can't believe how fast this past year has gone, but I've learned so much...and I have never been more happy and wake up each morning more in love than the day before with my sweet hubby! :)
For our anniversary, my sweet hubba bubba majorly suprised me and cleaned our house...and I mean CLEANED our house! I was so sure that when I got home from work on Friday that I was going to slave myself to clean the house so we could have the weekend to play! :) But nope, I got home and put my bag on the chair, looked around, and noticed how nice our house looked! Not only did he wash, dry, and fold the laundry...he put it away, and even ironed my shirts and dress slacks! :) He even went grocery shopping! What a sweet husband! He wrote me this really sweet letter too!
We walked down to the Pier at the end of our street down by the Pike, and ate at the Yardhouse. On our walk home, we hitched a ride in one of those pedi-cabs and he gave us a ride to Ocean. We gave him a really nice tip...which was good, because he totally deserved it for hauling our butts up that huge hill! :) It was so fun!
We came back and watched a movie...well I attempted. I fell asleep pretty fast!
The next morning, Dustin was sweet and let me sleep in! When I finally got out of bed, Dustin had a breakfast ready for us...of his favorite cereal...Cap'n Crunch! (I should buy it more often...when I try to buy healthy options....they don't get eaten!) It was a tasty easy low fuss breakfast...and besides..the dishes were a cinch!
We got ready and went down towards Belmont Shore, and we got pedi's! My cute husbnd loves them...which is a good thing! :) All men..regardless of how manly they are should try a pedicure! They are so wonderful! Besides, they always want women to rub their feet, why not have your toes look pretty too! (You don't have to get polish boys!) :)
We wandered down to our favorite pizza place down there, and ate some pizza. And then we stopped by this little bakery shop and picked up a chocolate cupcake for us to share! (They have the BEST chocolate cake batter ever! If anyone has an awesome homemade chocolate cake recipe...can you please pass it on to me?) There was this man walking down the street that was all, "I know love when I see it!" It made me smile! :)
We decided to go to Target because:
A) I needed to find some tights to wear
B) We wanted to get us a plant instead of flowers
So, this year, Dustin and I decided that because flowers are so friggin' expensive (like everything else) that we were going to get us a plant that we can have with us for our marriage...well until it gets too big and we have to plant it outside! We got a Pygmy Date Palm Tree. Right now it is about 12 inches tall, but they are supposed to get pretty big. I figure we've got a few years of this little tree being an inside plant....We've decided that our tree is a boy, and we've named him "Henry." (Cross your fingers that we don't kill it!) **When I take a picture of Henry...I will post them! He looks better in daylight! :)
After we left Target with our loot and Henry, we looked at the recipet and found out that the lady didn't charge us for little Henry, so we went back and I paid for it...probably wouldn't be good karma to run off and steal an anniversary plant! So no worries...little Henry is paid for! :)
We came back to our house and got all ready for dinner. There is this really nice restraunt at 1st and Pine called The Madison. Very upscale place, and I had a wonderful time! We got all dressed up, and had a great dinner. We each had the rib eye, and my food was to die for! There was this obnoxious lady there that kept playing with her phone...it was very annoying! She didn't even realize that the piano player was playing Happy Birthday to her! Then when they played it for someone else, she was kinda ticked. One of my pet peeves? Oh yeah, cell phones at dinner! Seriously people! Put them away for just a few minutes and enjoy your families!
Ok, back to dinner! We shared a cheesecake..and yummmm...it was so good! I need to learn to make tasty cheesecakes! (Any recipes you would like to donate to the Karen doesn't know how to make cheesecake fund would be greatly appreciated!)
We came back and again attemped to watch a movie, which again, I slept through! Dustin stayed awake and said it was pretty good, so I might just have to watch it! Anyone seen Spiderman 2? I saw the beginning, but I was tired! Doesn't matter how good of a movie it is...if I'm tired...see ya later!
Sunday morning, I slept in...again! Thank you Dustin! We watched the end of Jumper (which we fell asleep through the other night) and then we watched the beginning of Spiderman. (Yes, we have been on a movie kick!) We ate breakfast and then headed down towards the beach! Thank goodness I put on my sunscreen, because I got toasted! We rented bikes and rode bikes down by the beach for a little over an hour, wandered through all the artsy fartsy tents, and then walked to Ruby's at the end of the Huntington Pier and had a hamburger and fries and shared a milkshake! I love Ruby's! :) (Ok...I love all food that is bad for me!)
After wandering around with the mass of people in Huntington, we finally made our way home, and chilled for the rest of the night, and got Dustin ready for his business trip. He is up in Bakersfield this week...I can't wait to have him come home!
I had such a wonderful weekend! I sure miss Dustin, but I know that he is working hard to support our family! :) Thank you Dustin for making this last year a fun one, and I can't wait for the rest of eternity! :) I love you love bug! More than you will ever know!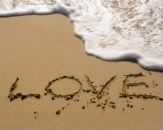 ...je t'aime!